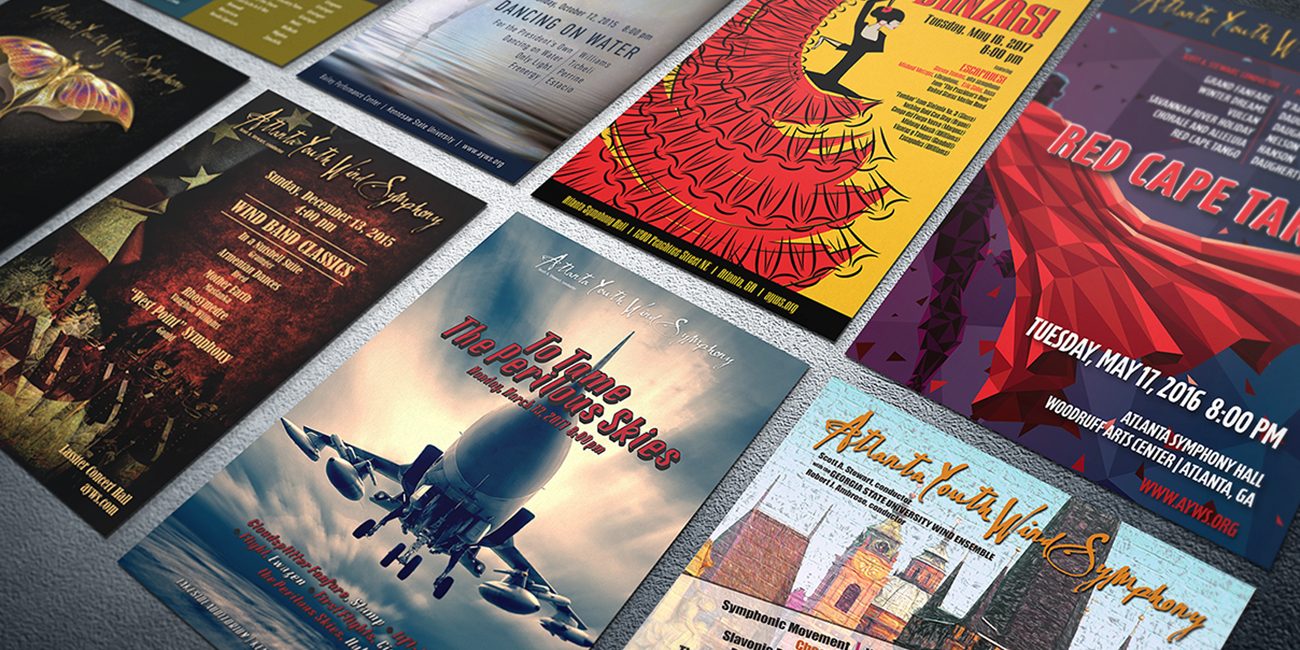 Client: Atlanta Youth Wind Symphony
Category: Fine Arts/Nonprofit
Projects: Logo & Identity, Graphic Design, Copywriting, Event Branding, Digital and Print Marketing
The Atlanta Youth Wind Symphony was founded in 1988 at Emory University as an honor wind ensemble for talented high school musicians in the Atlanta area. Since then, it has grown into an independent arts organization that tours regularly and holds a highly competitive audition process.
Creating a new look for an arts organization rapidly growing in size and prominence, reflecting both the serious artistry of the performers as well as the ensemble's youthful energy.
Our extensive classical music and fine arts backgrounds greatly informed our work for AYWS, allowing us to intimately understand the emotions and contexts of the pieces being performed. Each concert poster, along with related materials, was designed with the specific music in mind, such as the wind-swept dramatics of a Soviet-inspired concert featuring Prokofiev and Khachaturian or a whimsical water-themed program that included music from "Jaws."
Brochures, pocket folders, letterheads, business cards
Fundraising campaigns including direct mail pieces and social media push
T-shirts, sweatshirts, mugs, pajama pants, water bottles, bumper stickers, instrument case tags
CD labels
Concert posters and programs
Digital graphics for web and social media
The final product for AYWS was a sophisticated yet youthful look and feel reinforced through repetition of the logo and color palette on each branded piece. The posters proved to be particularly successful in drawing attention to upcoming concerts and boosting interest and attendance.